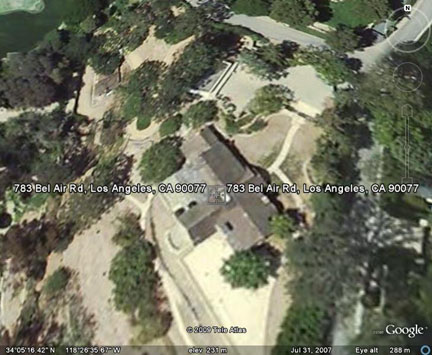 I have heard a few reports that the house at 783 Bel Air Road in Los Angeles was finally torn down. This was the home of Jeanette MacDonald, purchased for her as a wedding gift by her husband, Gene Raymond.
Above is a google earth photo of the house, known as "Twin Gables," taken July 31, 2007.
If anyone is willing to drive by the address and take current photos of the razed lot and surrounding area, please email them to me ASAP and we'll post them here.
The house, on a corner lot (you can see the road curving around it), was fairly small by movie star standards. Though Jeanette MacDonald's marriage didn't turn out to be all she thought it would be, she loved her home. She reluctantly moved out in the early '60s when her health was failing.
I see in this picture that the gorgeous rose gardens in the back were already gone as of 2007. These rose gardens were tended by Nelson Eddy, who spent a lot of time at the house. Particularly noteworthy were the bright orange roses, in honor of Jeanette's hair! I saw these same color roses still planted (and in disrepair) at their little hideaway home in Burbank before that house was torn down.
Anyone willing to drive over and take some photos for us?