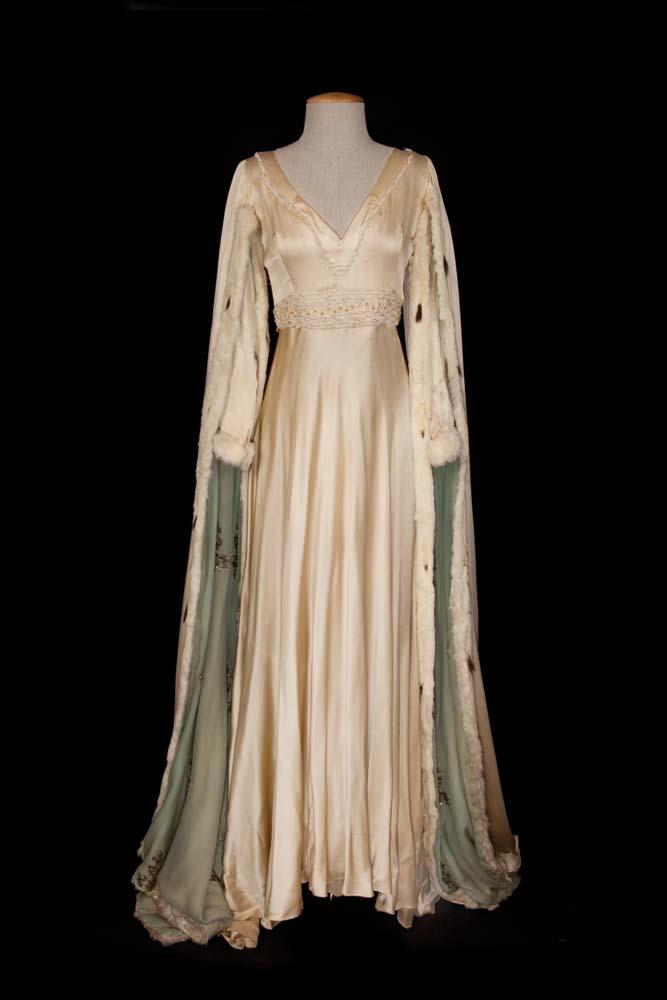 It is unusual for a Hollywood star to come forward and publicly support the Jeanette MacDonald-Nelson Eddy love affair…as Joanne Woodward has done in recent years.
There are several reasons for this hesitation. First, stars are loath to discuss something that might be controversial, thus opening them up to attack. Case in point – the lovely Eleanor Powell who was an early member of this club and was supportive of what was being revealed. She felt we were very courageous to speak out defending Jeanette and Nelson in the late 1970s when it wasn't yet fashionable to do so. As a result of her support, she received a letter threatening a lawsuit from the Jeanette MacDonald fan club. We continued to speak on the phone and I attended her last birthday party, but she cancelled a scheduled appearance at an upcoming club meeting due to the unpleasantness from the other club.
Some of you may remember the TV interview in which Jimmy Stewart grunted his non-denial when asked by Merv Griffin if Jeanette and Nelson had had an affair…after all, Griffin said, "They sang so close together." And then June Allyson, the other guest, piped up, "Everyone at the studio knew about it."
Miliza Korjus, also an early member of this club (until her death), staunchly defended the Mac/Eddy affair when she attended the early Los Angeles club meetings. She didn't know much of the particulars back in 1938 when she was at MGM, but when she met with Jeanette during Jeanette's last illness, much of Jeanette's discussion had to do with Nelson and their upcoming plans. It was then that Miliza realized that this had been a long-standing love.
Howard Keel, a later MGM star told me that he didn't have problems with studio head Louis B. Mayer but while at MGM he heard about the problems Mayer caused for Jeanette and Nelson. Debbie Reynolds was at the studio during the same time period as Keel.
We missed this post from Ms. Reynolds' website when it was first posted but certainly are – even belatedly – appreciative of the mention!
…In 1994, "Sweethearts: The Timeless Love Affair Onscreen and Off Between Jeanette MacDonald and Nelson Eddy," by Sharon Rich, proposed that Eddy and MacDonald had had a torrid love affair that resulted in four pregnancies for MacDonald, including one during the filming of "Bittersweet" [actually, it was "Sweethearts"] in 1938 that ended in a miscarriage. Supposedly Mayer himself had a yen for MacDonald, plus he had a vested interest in keeping her married to Gene Raymond, a blonde handsome MGM star who was gay and, times being what they were, living on the down low.

So here's what I'm wondering–did Mayer take MacDonald off of "Balalaika" not because he wanted to boost Massey's career but because he wanted to cool things off between MacDonald and Eddy? Well, yes–Mayer was king of MGM, and as you know, it's always good to be king.

For more info about the MacDonald/Eddy affair, you can read the very descriptive Kirkus Review of "Sweethearts," then catch up on all things MacDonald/Eddy at MacEddy.com…
Link to Debbie Reynolds' official website blog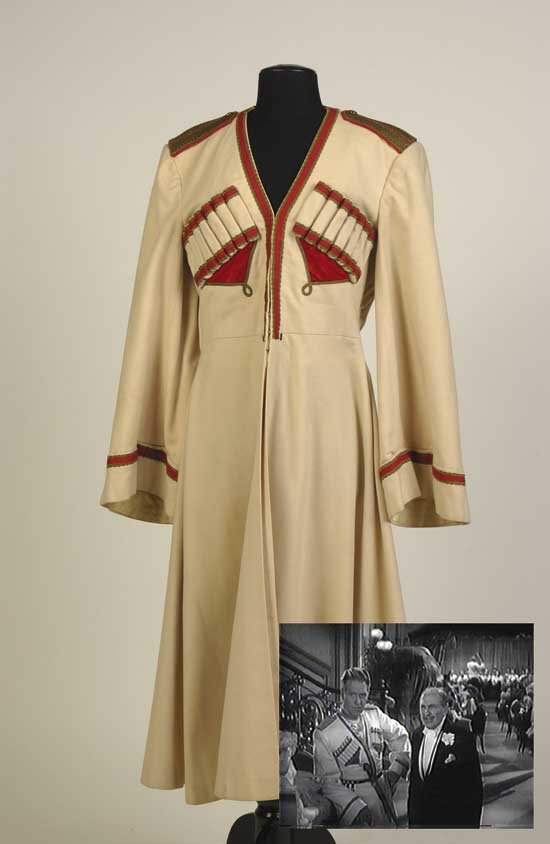 PS: Back in the day, Debbie Reynolds and Jane Withers were the only two Hollywood stars pushing for a permanent Hollywood museum. They put endless money, work, love and care into preserving the film industry's heritage and memorabilia. (Ms. Withers told me that the only reason she continued to work in the 1970s and '80s was to pay for all the storage units housing her collection.) Both women finally had to give up on the idea. Debbie Reynolds auctioned off much of her extensive collection in 2011. She is to be commended for trying so hard for so many years to preserve a precious chunk of 20th century American history.
Sold at the auctions and pictured on this page are costumes of interest to us: Jeanette's gown from her 1930 Technicolor film, The Vagabond King, and Nelson's costume from Balalaika (1939).
PPS: We understand that Ms. Reynolds has had health issues these last few months and wish her a full recovery.