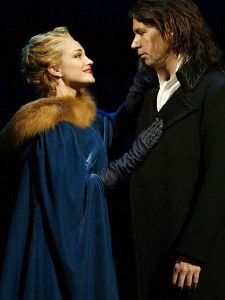 Not a great review, but check out the paragraph below in blue:
If you loved "Les Miz" and "The Scarlet Pimpernel" on Broadway, you might like "A Tale of Two Cities."

A little.
The show that opened last night at the Al Hirschfeld Theatre is a musicalization of the 1859 Charles Dickens novel about the French Revolution. This is the actual French Revolution, not that mid-19th century student uprising that "Les Miz" was really about.
This show has book, music and lyrics by New Jersey's Jill Santoriello, who has a thin Broadway résumé. Make that no Broadway résumé at all. Now 42, she reportedly started writing this show nearly 28 years ago, as a child, during the first Reagan administration.
Santoriello might just be the Sarah Palin of Broadway. Asked how familiar she was with Dickens' other novels in a recent interview, she replied, "I'm a fan of his stories, and I've seen adaptations. But I still haven't read any of the other novels. I'm saving those up for when this is over."
"This" is likely to be over soon.
"A Tale of Two Cities" had its stage premiere a year ago at the Asolo Repertory Theatre in Sarasota, Fla. Now, with 20 listed producers, it finally comes to Broadway. One problem with any show that takes nearly 28 years to come to Broadway is that by the time it gets there, it's likely to be a bit dated.
"Les Miz" was a legitimate musical smash – its big melodies and larger-than-life themes dominating Broadway. Now we live in diminished times, to say the least, and the intimate focus of musicals like "Avenue Q" and "Spring Awakening" seem more to the point.
But a part of the Broadway audience still yearns for the big stories and the large choral melodies to go with it, and "A Tale of Two Cities" strives to give them that.
Strives is the operative word here. None of the songs quite gets off the ground, including "Until Tomorrow," the attempt at an anthem that ends Act One. This is the moment at which the miserable street wretches of Paris decide enough is enough, and that it's time to storm the Bastille.
Yes, "Until Tomorrow" is a knockoff of "One Day More," the anthem from "Les Miz" that knocked your socks off.
Neither Santoriello's musical talent nor her lyric-writing skills are really up to the job, though, as she plucks well-worn phrases from Dickens, and adds her own lame tweaks:
"Now is the best of times/The worst of times/And all things in between." Hmmm.
Act Two focuses on the lawyer who will make the giant sacrifice of his life for the woman he secretly loves, the dissipated Sydney Carton. It builds to the great guillotine scene – which thrilled so many of us when we had to read the novel in junior high school.
Santoriello does Carton the favor of keeping Dickens' magnificent exit line intact, and mercifully unsung.
James Barbour, who has a big baritone and a background in such shows (he starred in "Jane Eyre," replaced Terrence Mann in "Beauty and the Beast," and created this role in Sarasota), stars as Carton.
Aaron Lazar, Enjolras in the recent revival of "Les Miserables," plays Charles Darnay, the French nobleman who gets into difficulties when he goes back to Paris at the height of the Terror.
Brandi Burkhardt, who looks exactly like the movie-operetta star Jeanette MacDonald here, is Lucie Manette, the woman both men love.
Gregg Edelman ("City of Angels"), long missing from Broadway, is the shell-shocked Dr. Alexandre Manette, who spent years in prison for having witnessed a horror of the old Regime.
Other appealing faces in this large cast include Westchester's droll Nick Wyman (another "Les Miz" alum) as John Barsad, Katherine McGrath as the fussy and solicitous Miss Pros and Michael Hayward-Jones as the English banker, Jarvis Lorry.
Natalie Toro simply fails to terrorize as the sinister Madame Defarge, who knits patiently beside the guillotine.
The director, who keeps all this traffic moving at a brisk pace nevertheless, is Warren Carlyle.
What may be the biggest surprise here is the scenic design credit for Tony Walton, a distinguished Broadway veteran, who seems to have been given a 49-cent budget.
Two wooden contraptions roll off and on, faintly recalling the jungle gyms in "Les Miz." Except that these seem to be made of matchsticks. Walton also seems to have recycled a couple of blue-painted backdrops from his show, "A Christmas Carol." They only vaguely suggest the two cities of the title, London and Paris.
If you want to see "A Tale of Two Cities," be quick about it. Chances are, in any case, that you'll probably like the book better.
Bear in mind that it happens to be one of Dickens' shortest.