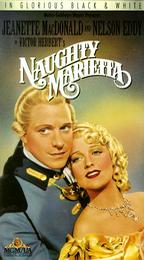 Rotten Tomatoes was honored to sit down with Betty White to discuss her Five Favorite Films (hint: she's a romantic at heart) and to revisit her incredible career in Hollywood — an impressive body of work that includes hosting her own self-titled talk show, her own variety show, creating iconic characters like "The Happy Homemaker" Sue Ann Nivens on The Mary Tyler Moore Show and Rose Nylund on The Golden Girls, and winning five Emmys — all before jumping headfirst into movie roles. Read on to learn Betty White's Five Favorite Films and hear her insights into great television writing, silly moments on the set of The Proposal, and her take on the art of the conversation.
Her five favorite films: Naughty Marietta, Out of Africa, Lost Horizon, The Bridges of Madison County, Kramer vs. Kramer. Re: her first choice:
I don't think I'd be in this business if it wasn't for Naughty Marietta, with Nelson Eddy and Jeanette MacDonald. I was 14 and I was SO in love with Nelson Eddy I thought it was the end of the world, and I didn't just like Jeanette MacDonald, I was Jeanette MacDonald! You know, at 14. And at 14 I also thought, Nelson Eddy married somebody and I thought he needed a much younger woman. I think I saw Naughty Marietta 48 times. I wasn't even interested in show business until then; I did school plays and that kind of thing, but I hadn't thought of it as a career until I got hooked.