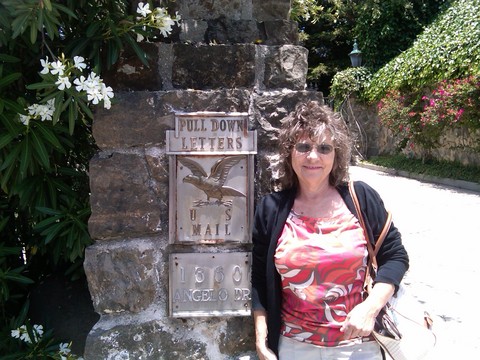 The photo above is Bernadette Schwartz standing next to the mailbox and entrance gate of 1330 Angelo Drive, high up in the hills above Benedict Canyon, overlooking the city of Los Angeles. There on the adjoining property behind the gates, further along the private road was a Jeanette-Nelson hideaway home, a bunkhouse that Nelson remodeled and that they called "Mists."
Since 1998, Bern Schwartz has admirably run our Jeanette MacDonald and Nelson Eddy social media groups. Back when Yahoo was the only game in town, Bern started a Mac/Eddy Yahoo group where fans could chat, share information and photos, and discuss their films and lives.  Five years later Facebook became in the "in" place to hang out and Bern in time moved our groups there and has continued moderating them.
This last weekend Bern, who has been ill but doctors initially misdiagnosed, stopped breathing and it took some time for the paramedics to get her pulse going again (the true test of whether oxygen administered is actually able to be utilized in the body and brain).  Bern has been on life support since and although as of this writing she now has some reflexes working and has increased her ability to breathe on her own, she still has not woken up. Prayers are in order both for Bern and her family during this awful and uncertain waiting period. Bern's blood pressure, which at one point spiraled pretty high, came right back down when her beloved Jeanette and Nelson music was played on her cell phone. She's a fighter and we pray for her full recovery. Love to you, Bern, from all your friends around the globe!