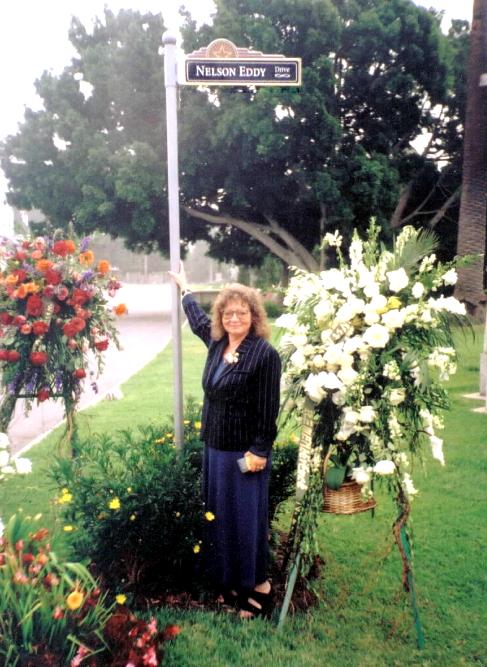 Friends, it's been a very long night. Neither my husband Jake or I could really fall sleep until about two hours ago, literally. And our sleep was brief…because the phone call finally came a little while ago.
Yes, our good friend
Bernadette Schwartz
 (pictured above at the Nelson Eddy Drive dedication) left us early this morning. For over two decades she handled our Jeanette and Nelson social media and fan groups, she has been my right arm, my friend, my helper, my sounding board, someone who could be trusted with any information, the person who could quickly find a photo I needed among 5,00 plus stored online, or a newspaper clipping or a quote from one of our sources when I was buried in my computer, working. She was there for me recently when I myself was in the hospital (coming to camp out at our place was an almost 4-hour bus ride one way for her), encouraging me and happy to just sit patiently whether I was screaming in pain, venting my frustration, or trying to learn to stand up and walk again after fracturing my back. Bern always had compassion, tolerance, a wry commentary or a chuckle and a witty commentary to lighten the mood in any situation. She was kind to all the fans and treated them with dignity and respect whether they were in their teens or their nineties. The outpouring of love on the Facebook groups she moderated is a testimony to the kind of person she was – and is.

By the way, the above amusing photo was taken on a special day a few years back when she and a few other of my trusted researchers got together to surprise me with not only their handmade outfits but a crazy, fun day together laughing ourselves silly…laughter is so healing when you're dealing with tragedy. (From left to right: Cecilia Rodriguez, Bern, Angela Messino, Patrice Messina, Anne Billingsley and Maria Escano.)
The photo below is of Bern and the bust of Anna May Wong sculpted by Nelson Eddy: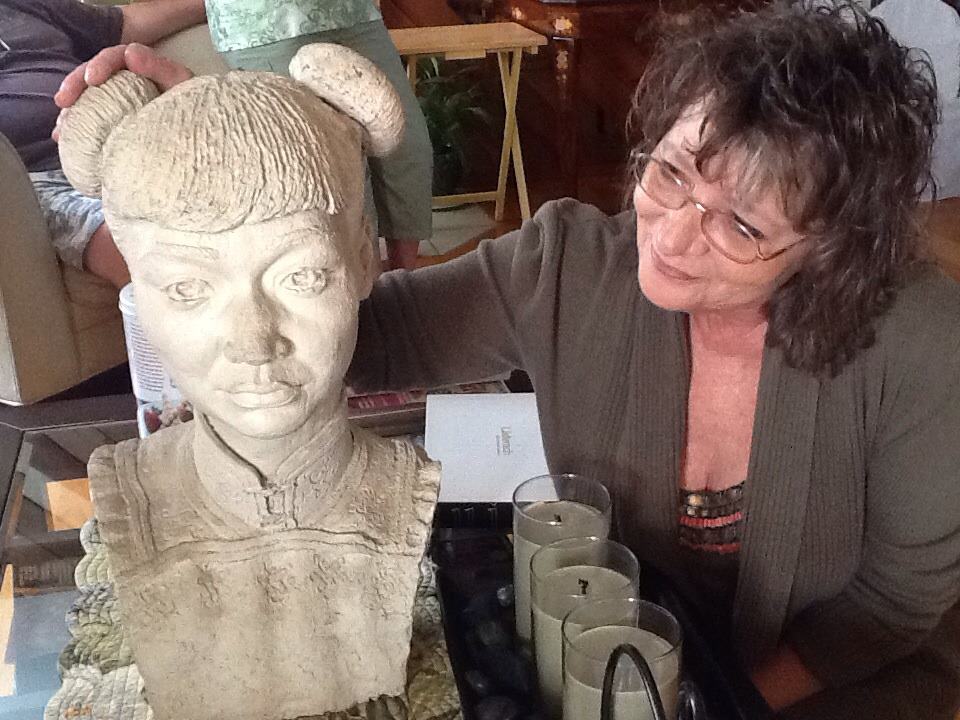 And below, with Gene London who owns many of Jeanette's film gowns and some of Nelson's as well. Bern helped coordinate with Gene our being able to view his amazing collection: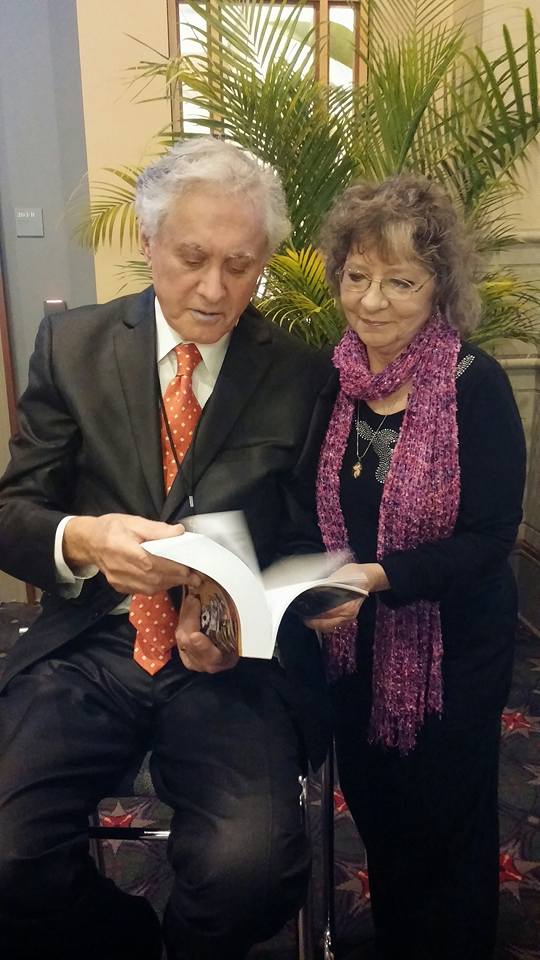 Most of all, Bern had unshakable loyalty. That's a rarity when you're dealing with anything Hollywood. I'm just glad she's not suffering anymore and I'm certain she's broken free and is soaring now.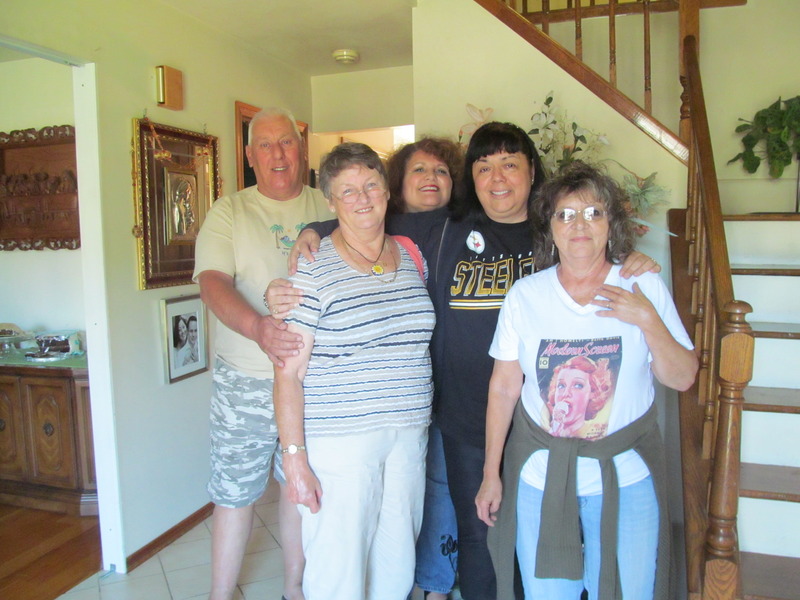 The photo above was at a club meeting at Maria Escano's home, pictured are (from left to right) Roy and Anne Billingsley, Angela Messino, Cecilia Rodriguez and Bern. And below with Maria Escano: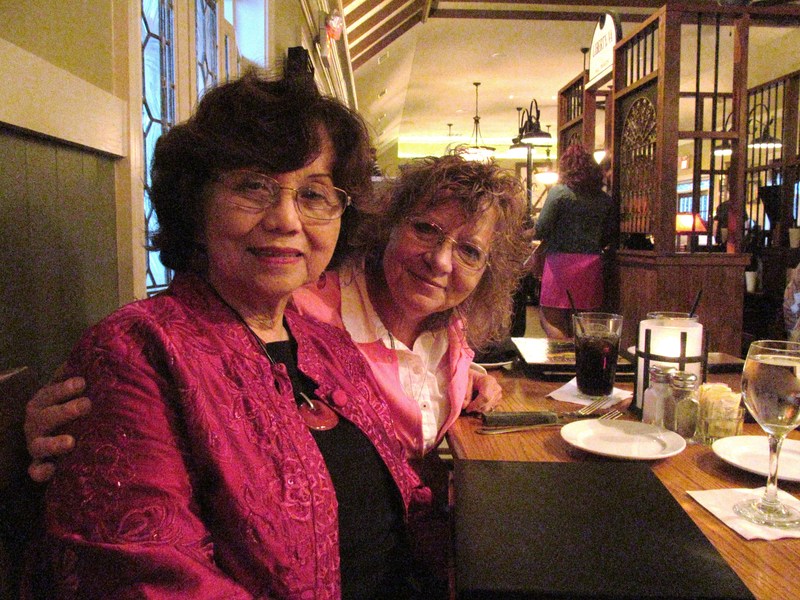 More photos, at the Smoke House restaurant where Jeanette and Nelson ate across the street from Warner Bros. Studios and not far from their hideaway home on Mariposa in Burbank. Also with Vivienne Clowes-Hollins and Katie Gardner:

And finally, a wonderful shot of my daughter Juliet, me, Bern and Lee Quindlen (one of my "Sweethearts" sources) in NYC: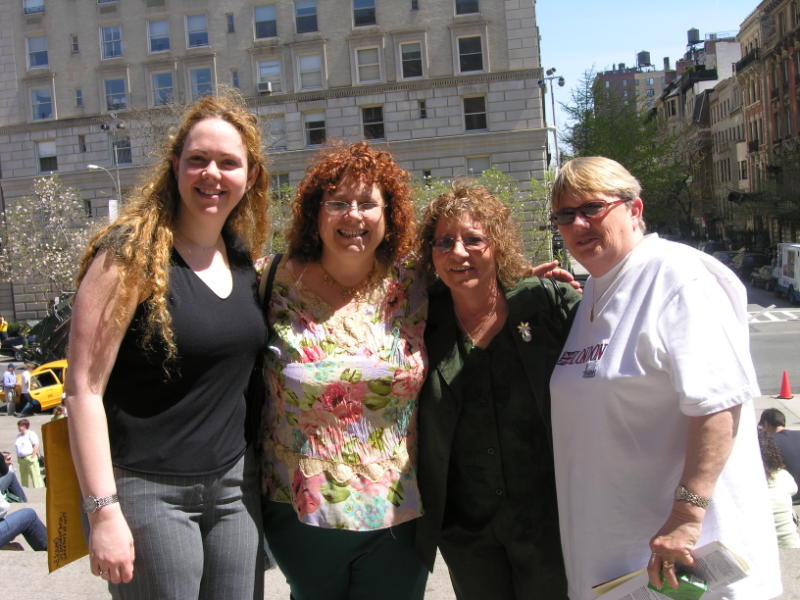 We love you, Bern, and all your dedication and hard work on behalf of Jeanette and Nelson. And thank you again for your friendship.
***
For those of you who want to attend Bernadette Schwartz's funeral and/or send flowers or perhaps make a donation in her name, here are the details:
Viewing is from 5-8 pm on Friday, April 15 at Maxwell-Tobie Funeral Home located at 573 Mill Creek Road, Manahawkin, NJ. Phone: 609-597-4411.
The church service is Saturday, April 16 at 11 am at St. Mary's Parish located at 747 West Bay Avenue, Barnegat, NJ. Phone: 609-698-5531.
For those wanting to send flowers, please use this florist who was Bern's good friend: Peggy Ann The Girls Florist, 18 Indian Rd, Manahawkin, NJ 08050. Phone: 609-597-1599.
And finally, for those wanting to make a charity donation in Bernadette Schwartz's name, she always said if she won the lottery she would donate to St. Jude's Children Hospital. Donations can be made at their website: https://www.stjude.org/ or by calling: 800-805-5856.