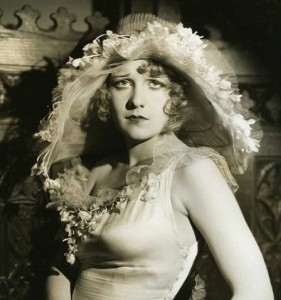 Obituary: Anita Pomares better known as Anita Page (August 4, 1910 – September 6, 2008) was an American film actress and one of a few people to have acted as an adult (albeit young) in silent films (Barbara Kent, Dorothy Janis, and Miriam Seegar are among the handful of others) to live until 2008. She was also the last known living attendee of the very first Academy Awards in 1929….
She was the leading lady to Lon Chaney, Buster Keaton, Robert Montgomery, and Clark Gable (among others) and during the early 1930s, she was one of Hollywood's busiest actresses. She was involved briefly with Gable romantically during that time. At the height of her popularity, she was receiving more fan mail than any other female star, with the exception of Greta Garbo, and received multiple marriage proposals from Benito Mussolini in the mail.
One of her finest roles was as the prostitute, Jenny LeGrand, in the 1932 pre-Code movie, Skyscraper Souls, which starred Warren William and a young Maureen O'Sullivan….
When her contract expired in 1933, she surprised Hollywood by announcing her retirement at the age of 23. She made one more movie (in the UK in 1936), and then left the screen, virtually disappearing from Hollywood circles for 60 years.
In a 2004 interview with author Scott Feinberg, she claimed that her refusal to meet demands for sexual favors by MGM head of production Irving Thalberg, supported by studio chief Louis B. Mayer, is what truly ended her career. She said that Mayer colluded with the other studio bosses to ban her and other uncooperative actresses from finding work.