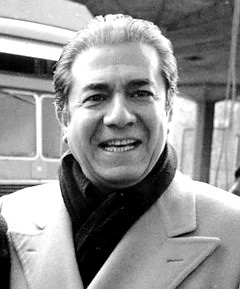 Tenor Giuseppe Di Stefano dead at 86
the associated press
Tuesday, March 4th 2008, 4:00 AM
ROME – Giuseppe Di Stefano, one of the greatest tenors of the 20th century and a celebrated singing partner of soprano Maria Callas, died Monday, his wife said. He was 86.
Di Stefano died at home in Santa Maria Hoe, north of Milan, from injuries sustained in a November 2004 attack at his family's villa in Kenya, wife Monika Curth said.
Unidentified assailants struck the retired tenor on the head during the attack. Di Stefano underwent surgery twice in Mombasa before being flown to Milan. He awakened from a coma, but never fully recovered.
"He was 100% disabled, he couldn't even eat alone," Curth said. "Lately he frequently had colds and pneumonia."
Di Stefano, born in Sicily in 1921, made his debut in 1946 in the northern city of Reggio Emilia with Massenet's "Manon," and went on to sing at the world's top opera houses, including Milan's La Scala, New York's Metropolitan, and in Vienna and Berlin.
His last performance was in Rome in 1992.
Note: I mention Di Stefano's passing here because I am reminded of my good friend – the late, great John Martin. John was a devout Jeanette and Nelson fan and it was his persistence and genius that resulted in Jeanette's "lost" Fox films being saved for us to enjoy today. Those of you who attended early Mac/Eddy club events in Los Angeles will remember John as both our film projectionist and piano accompanist for singers at our events.
In his younger years, John lived in New York City. As an accompanist he moved in musical circles and saw all the of operatic greats of that era. I asked him once who were the most memorable stars he'd seen in person (aside from Jeanette and Nelson, of course). For Wagnerian opera – Lauritz Melchior and Kirsten Flagstad in Tristan and Isolde. For the opera Andrea Chenier: Mario del Monaco and Renata Tebaldi. For several other operas: Maria Callas and Giuseppe Di Stefano.
John explained that some of the above may not have had the greatest voices from a technical point of view but seeing them in a live performance was a totally different story. And sometimes a particular performance was simply – magic.
I understood what John was saying. My paternal grandmother nearly half of her life in New York City, deeply involved in the music world. She, for instance, saw Jeanette on Broadway and heard Nelson's debut in Beethoven's 9th at Lewisohn Stadium. I once asked her the same question: what was the greatest live performance she'd ever seen? Her response: Caruso live at the Met, in any opera. She sniffed at listening to "restored" Caruso records, saying that he didn't sound anything like that in person, you had to be there to experience it.
I am reminded repeatedly by those who saw Nelson or Jeanette live in concert, that they were "even better" singers off-screen than on. For Jeanette, we at least have one of her Hollywood Bowl recitals on CD that shows how in love with her that audience was – screaming and shouting their love – and song titles that they wanted her to sing! One wishes that a concert recording of Nelson's from the earlier days would surface, although we can "feel the love" from the audiences at some of his live radio shows.
One wonders where the generations of the 21st century will find their opera greats. The Metropolitan Opera is making an effort to find new audiences by broadcasting live performances in movie theaters in High Definition. Young baritone Josh Groban is probably the closest singer we have today to Nelson Eddy – an operatic voice who has successfully crossed over to rock star fame.