Fact: we know that for Christmas, 1941, Nelson Eddy gave Jeanette MacDonald a special gift: a sculpture he made of them adapted from Rodin's "The Kiss." These are the only details we were aware of, based on this letter:
[Columnist Cindy Adams] wrote of stars of that time & wrote that Jeanette & Nelson were Hollywood's most married-like couple & that  he had made a sculpture of them based on Rodin's The Kiss. It was not an exact copy, but she had on a little towel that was falling to the ground. Nelson gave the piece to Jeanette for Christmas. Has anyone heard of that sculpture in any of Nelson's artwork? Ann did destroy a lot & I doubt she'd have that on her mantle, but I always wondered about that piece.
Trying to get more information, I contacted Cindy Adams' office and also parked myself at the New York City main library, spending a couple hours going through microfilm. But there seemed no more to learn than those sketchy facts.
The new Sweethearts had already been uploaded for publishing when I received an excited email: Katie Gardner had found the statue, visible for the world to see, right here in the film I Married an Angel. (Thanks to Katie for providing these screen shots which she ultimately posted on her blog.)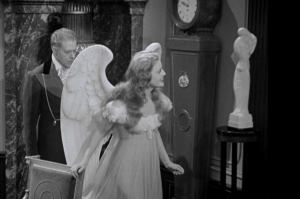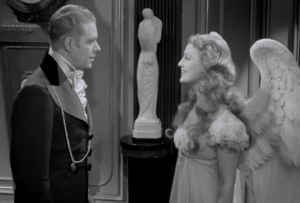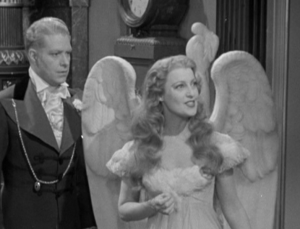 Jeanette and Nelson stand right in front of this statue and have some dialogue. (And at close study, it looks more like a sheet than a towel falling off the girl.) If you remember the scene it starts to topple and Nelson grabs it.
This would have totally appealed to Nelson's sense of humor – show the world and yet have the public not realize the significance of it!
I do wonder, however, whether this is the original piece or whether he made a copy for use in the scene – what if he had dropped it or something went awry with "special effects" when it was toppled over?
The reason I ask this is because Nelson also sculpted his  Palaffi "ancestors" whose busts are on show in the bank scene.  I think it likely that for those, he made a basic self-portrait mold and then added the mustache and different hair styles for his "ancestors."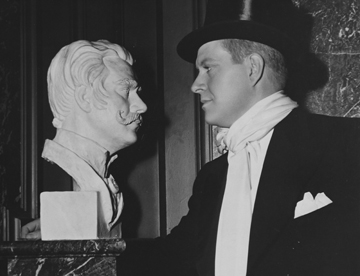 The originals of Nelson's busts that we do own have a few nicks on them. So if the one we see onscreen is indeed the original of Nelson's gift to Jeanette,  he had to be VERY careful not to drop it!
Additionally, I was told years ago that Nelson might have done the paintings of his bank "ancestors." I was never able to confirm or deny this story. But during the same time period Nelson sculpted a bust of Jeanette.  And he also can be seen here sketching something (we don't know what). So he was very busy being an artist during the filming of Angel.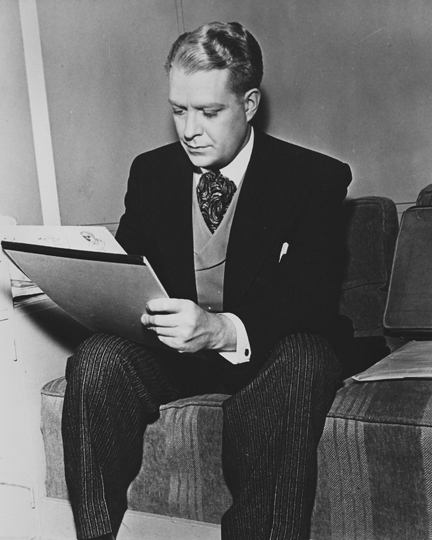 If you look at the paintings, the one on the far left looks quite a bit like Martin Van Buren, which would have been another insider joke for Nelson since he was told he was directly related to that President.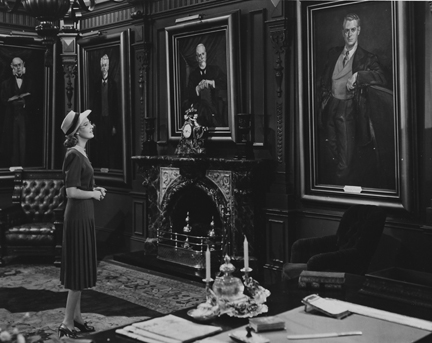 The next question is: what happened Nelson's version of "The Kiss" sculpture? I invite anyone with photos inside Jeanette's home, "Twin Gables," to search carefully through them and see whether she might ever have put it on display there. Probably not, though, more likely it was at "Mists" or another of their houses, or Isabel's, or eventually ended up in Nelson's private studio where he kept some some of his Jeanette artwork. The hope is that this piece survived and was sold or given away but there also is the chance that Ann consigned it to her bonfire after Nelson's death.
I want to thank Katie for her excellent sleuthing and the others who helped with this research. And yes, I was able to pull the book manuscript back and add a mention and a photo of this incredible Christmas gift before Sweethearts went to press.