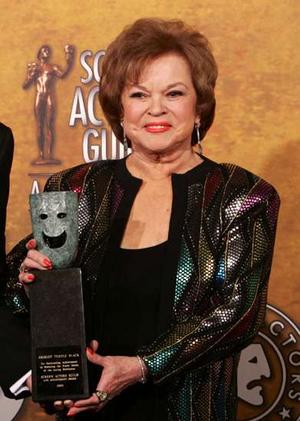 SAN FRANCISCO—Shirley Temple Black quietly celebrated her 80th birthday this week after breaking her arm in a fall at her suburban San Francisco home.
Rick Ross, her Los Angeles-based attorney, says the former child star is doing fine. She turned 80 on Wednesday.
Black was the top box-office draw in the U.S. from 1935 to 1938. Her best-known films include "Curly Top" and "Little Miss Marker."
After retiring from the big screen, she held a number of diplomatic posts, including U.S. ambassador to Czechoslovakia.
Black lives in the San Francisco suburb of Woodside.
Mac/Eddy fans will remember that Shirley made her radio debut with Nelson Eddy on the Gulf Radio production of "The Blue Bird" – in which they sang "Silent Night" together...and a crazy woman in the audience stood up and pointed a gun at Shirley.
You can visit Shirley's website here.