Note: If anyone sees this show, please post a review of it!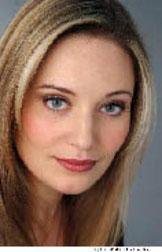 Operettas Bringing Romance to Sidney
Charlotte Corwin has roots in Victoria, but her first visit to Sidney will be to bring operettas to town.
Guest conductor Donald Hunsberger, of New York's renowned Eastman Wind Ensemble, will lead the Montreal soprano and the Palm Court Light Orchestra in the great operettas of the silver screen….
The concert Feb. 12 will offer the music of Victor Herbert, Rudolf Friml and Sigmund Romberg in selections from The Desert Song, Rose Marie, Naughty Marietta and The Student Prince. The program evokes memories of screen idols Nelson Eddy, Jeanette MacDonald and Mario Lanza.
"I love operetta and I don't get the opportunity to do it," Corwin said. She's been concentrating on serious opera, and is in her third and final year as an apprentice with the Montreal Opera Company.
"I'm trying to get into the real world now," she said with a laugh.
Operettas of the Silver Screen is Feb. 12 at 2:30 p.m. in the Charlie White Theatre at Mary Winspear Centre. Tickets are $26 and available throught the Mary Winspear Box office 656-0275. To learn more about the Palm Court Light Orchestra and other venues for this concert visit www.palmcourtorchestra.com