Description
A typed manuscript thought to be lost for decades is now released thanks to Linda Rogers-Knight. In his final years Nelson wrote an unfinished novel, A Will Of Evil. It's a courtroom drama about a young man whose deceased wife apparently disinherits him in her will; but more poignantly– the book is a thinly disguised look at Nelson 's life with Jeanette.
Writing began in 1960 during Jeanette's final illness and continued in the months before and after her death in January 1965. Pulling no punches, Nelson accuses those who betrayed them during their 30-odd years together. His story about wrongful death, physical neglect, being barred from a dying wife's bedside, financial trickery and legal wrangling over a will in probate court — will feel very familiar to you if you have read Sweethearts.
Nelson collaborated for legal procedures and jargon with his good friend, lawyer and former "studio fixer", C. Richard Maddox. And it is Maddox's name on the title page as the official author of the manuscript, as a protective measure. Nelson left Maddox written directions that the book was to be given upon his death to Linda Louise Rogers, a young woman who Nelson mentored in art. Her sketch of Nelson is on the cover of this book; she helped Nelson get through Jeanette's final days and brought him personal happiness afterwards. Nelson had just finished the manuscript before he died in Miami in March 1967. The book was put into storage and only recently found its way back to Linda, finally being published fifty years to the day after his passing.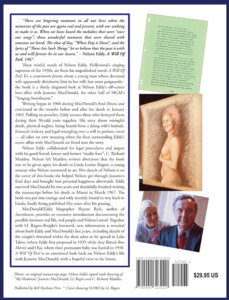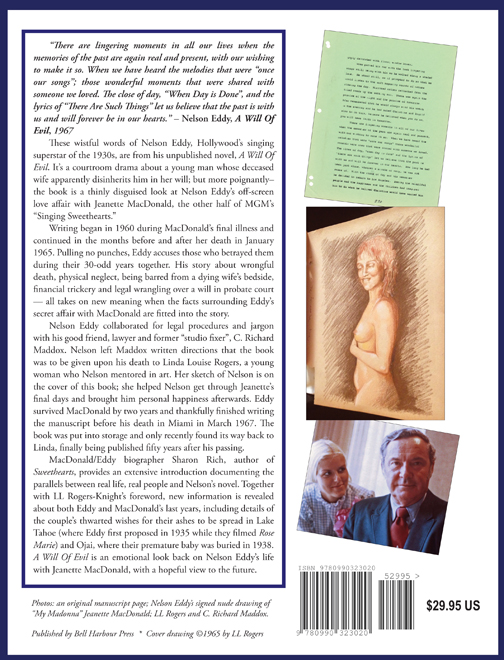 The book includes the original typewritten pages as-is with its notes, corrections and cross-outs intact. Also reproduced are several photos never made public before including Nelson Eddy's nude, signed drawing circa 1940s of Jeanette MacDonald with what looks to be a "baby bump" entitled "My Madonna." Sweethearts author Sharon Rich provides an extensive introduction documenting the parallels between real life, real people and Nelson's novel. Together with LL Rogers-Knight's foreword, new information is revealed about both Nelson and Jeanette's last years, including details of the couple's thwarted wishes for their ashes to be spread in Lake Tahoe (where Eddy first proposed in 1935 while they filmed their second movie together, Rose Marie) and Ojai, where their premature baby was buried in 1938. A Will Of Evil is an emotional look back on their life with a hopeful view to the future.