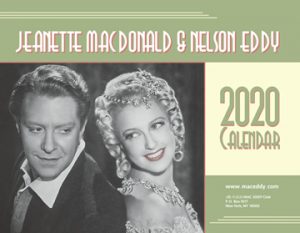 New decade, new look!
The Jeanette MacDonald & Nelson Eddy 2020 calendar… with a beautiful new style cover by Don Schumann.
The calendar is wire-bound, 11 x 8.5″. Each month features a different fabulous, glossy photo annotated with dozens of NEWLY UPDATED, interesting, informative and fun dates, facts and events in the lives of Jeanette and Nelson. Thank you to Don, also to Maria Escano and a couple other good folks who helped compile the calendar this year. None of the photos for each month have been used in a previous calendar, and at least one of the photos was completely new to me! (And that's saying something since we've used over 500 photos in calendars!)
Please click on the order link here for more details. Orders placed now will be shipped after Thanksgiving.