We get many requests for the Jeanette MacDonald and/or Nelson Eddy music that folks need on very short notice for events ranging from weddings to parties to funerals.
The songs below can be downloaded and should be helpful.
Ave Maria – Jeanette
The Lord's Prayer – Nelson
Nearer My God to Thee – Jeanette
Ave Maria – Nelson
Ah, Sweet Mystery of Life – duet
Indian Love Call – duet
Will You Rememeber – duet
Joy to the World – Nelson
White Christmas – Nelson
O Come All Ye Faithful – Nelson
Silent Night – Nelson
O Holy Night – Nelson
America – Nelson
Star-Spangled Banner – Jeanette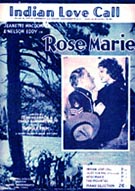 The Jeanette MacDonald and Nelson Eddy 1936 recording of "Indian Love Call" was a 2008 inductee in the Grammy Hall of Fame!
This is the song that is most associated with them and Nelson Eddy claimed in later years that he sang the song literally thousands of times in concert, nightclubs, on TV and anywhere else he was asked to sing.
You can see "Indian Love Call" at the Grammy's Hall of Fame honorees at this link.