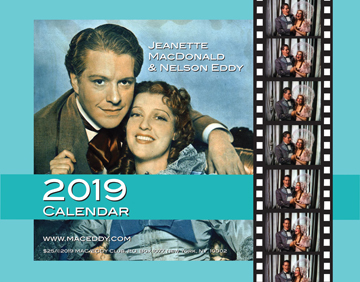 NOTE: Delivery in the U.S. guaranteed by Decemer 24 latest for calendar orders placed no later than December 18, 2018, only while supplies last.
Here it is… with a beautiful cover by Don Schumann.
Each month features a different fabulous, glossy photo annotated with dozens of NEWLY UPDATED, interesting, informative and fun dates, facts and events in the lives of Jeanette and Nelson.
These make great gifts for yourself or any Mac/Eddy fan! If needed, we can drop-ship a gift calendar for you and if you request, this month we will include a holiday card for a drop-shipped order as well; just write  what the text should say in the "order notes."
The order link is here. Enjoy! 🙂